Nigeria and the European Union (EU) have agreed to enhance cooperation in the areas of corruption, security and economy, to facilitate investment flow from the EU states into Nigeria.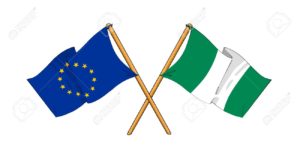 EU Ambassador and Head of EU delegation to Nigeria and Economic Community of West African States (ECOWAS) Michell Arion led the EU delegation to the dialogue. Nigeria Foreign Affairs Minister Geoffrey Onyeama led other ministry officials to the meeting.
Briefing reporters, Arion said the meeting focused on Buhari's three-point agenda of security, economy and corruption as well as others, which include irregular migration and the humanitarian situation in the Northeast. The envoy said that EU and Nigeria could work together for mutual benefits of both parties and enhance peace, security and economic cooperation.
In his words:
"We believe that our prosperity is your prosperity. We see West Africa as a block of ECOWAS and Nigeria as the economic base. We see West Africa not as export designation for the EU but investment destination for EU; we don't have hidden agenda. I will say that what we can do is to facilitate the EU investment in Nigeria, not only at the level of bilateral relations but in other fora. I believed that there are a lot of things we can do together basically in two main areas one is peace and security. We really believed that our security in the EU is your security; I believe we are fighting the same terrorists."