Consistent with our values and objectives, financially and/or non-financially (i.e. service exchange), we will be pleased with your partnership, collaboration or support as an individual or organization on our work or services in various ways as follows.
Sponsorship of Educational & Impactful Programs
We can organise or implement educative and impactful programs on your behalf on our platform.
Proof-reading
We currently provide detailed, timely, and objective proof-reading services for diplomacy/international relations related works (research articles, projects, papers, presentations, etc.) for STUDENTS only.
Therefore, we ensure spelling and grammar check, ensure logical consistency, evaluate your structure/layout and make appropriate recommendations.
We do not write research projects for students but with our service, we encourage and provide critical and creative thinking, required discipline guidance/initiative and practical relevance of your work. We also assure of our utmost confidentiality and professionalism accordingly on your submissions/works.
Our inputs are done on your work/documents via track-changes mode (for MS Word files) and we encourage our clients to be familiar with this medium as it ensures clear communication and proper application of required changes.
Research
We are also able to conduct concise, objective and insightful research work or investigations as required predominantly as it relates to the diplomatic progress of Nigeria and Nigerians.
Social Audit
Objectively, we also provide appraisal, insight and reporting towards improving an organization's social and ethical performance. The social audit helps to narrow gaps between vision/goal and reality, between efficiency and effectiveness.
Donations
We also welcome and appreciate voluntary donations towards supporting our work.
Publicity / Adverts
We can advertise with us for reliable promotion and visibility of your work through our audience of diverse people across different age groups and professions.
Our Adverts Guide
Ads placed are also shown on mobile devices.
Adverts placed on the headers, sidebars and background takeover appear on all pages including homepage, category pages, tag pages, and archive pages.
Sponsored post ads are sent to our email subscribers as well as appear on our Social Media Networks (Facebook &Twitter)
We do not accept the following ads: counterfeiting, hate-filled, exploitative, poor quality landing page/website, false/misrepresentative, sexually explicit, alcoholic beverages, gambling and betting.
We currently do not lend our work/platform to instruments of political (or electoral) contexts of any kind.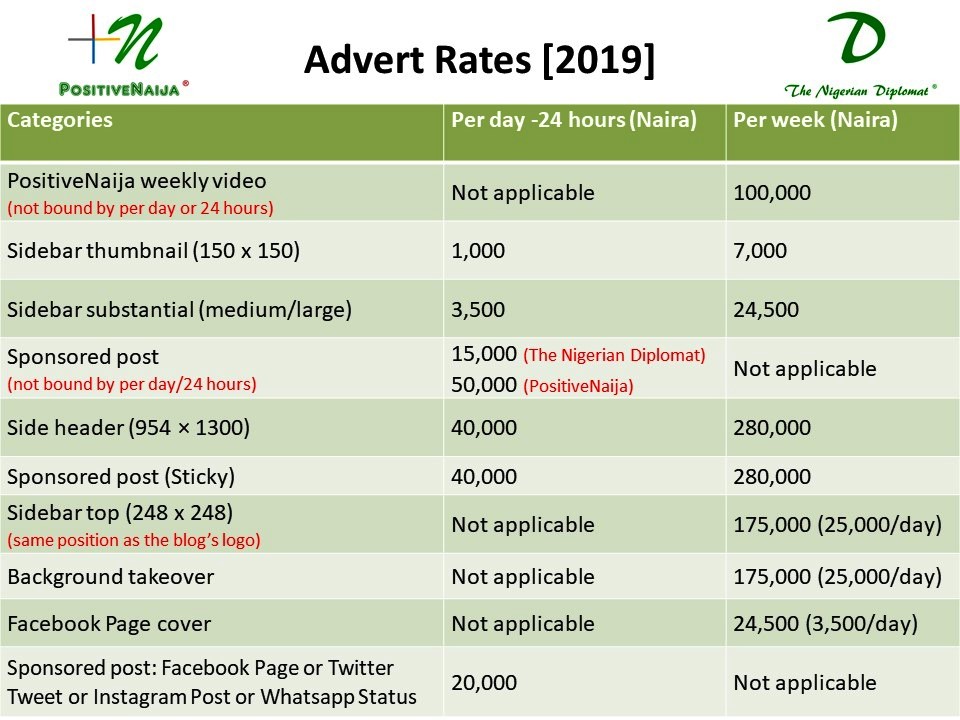 For further enquiries, kindly Contact us.
CURRENT PARTNERSHIP(S)
Funding Partners
Operational Partners
Strategic Alliances
"I believe there is so much money in the world, there is too much money in the world; but we only need the money that believe in our vision and mission."
                                                                                                             –     Ma Yun (Jack Ma)