Thank you for visiting The Nigerian Diplomat.
This site is dedicated to promoting positive foreign relations & diplomatic activities of Nigeria and the country's contributions to global peace, security, cooperation, and sustainable development.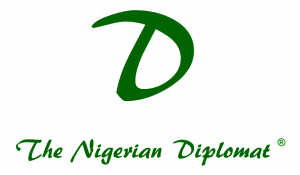 Current focus is on providing news updates on Nigeria's international relations, promotion of meaningful songs (lyrics) with Nigerian elements, providing updates on international development jobs/programmes (predominantly in Nigeria), inspection of the Nigerian government policies & promotion of value inspired role models.
We also present an objective monitoring and risk assessment on the safety of foreigners in Nigeria.
Vision: To be the most reliable and impactful arena for Nigeria's foreign relations and diplomacy.
Values: Whatsoever things that are of good report.
You are welcome to explore as much as possible on this blog and feel at home!
Thank you!
*The Nigerian Diplomat logo is a trademark of United Green Stars Worldwide Limited registered with the Nigeria Trademarks, Patents and Designs Registry of the Federal Ministry of Industry, Trade and Investment (FMITI).