We will be very pleased with your support, which you can provide in different ways – advert, donation, sponsorship and constructive engagement with our community (through your comments).
We welcome and appreciate voluntary donations towards supporting our work.
For sponsorships, partnerships and advertisements, we also welcome individuals, organizations and businesses with values consistent with our objectives.
The Nigerian Diplomat reaches an audience of diverse people across different age groups and professions.
"I believe there is so much money in the world, there is too much money in the world; but we only need the money that believe in our vision and mission."
                                                                                        –     Ma Yun (Jack Ma)
Adverts Guide

Payments for ads can also be made via provision/exchange of relevant products and services.
Ads placed are also shown on mobile devices.
Ads placed on the headers, sidebars and background takeover appear on all pages including homepage, category pages, tag pages, and archive pages.
Sponsored post ads are sent to our email subscribers as well as appear on our Social Media Networks (Facebook, Twitter & Google+)
We do not accept the following ads: counterfeiting, hate-filled, exploitative, poor quality landing page/website, false/misrepresentative, sexually explicit, alcoholic beverages, gambling and betting.
We currently do not lend our work/platform to instruments of political (or electoral) contexts of any kind.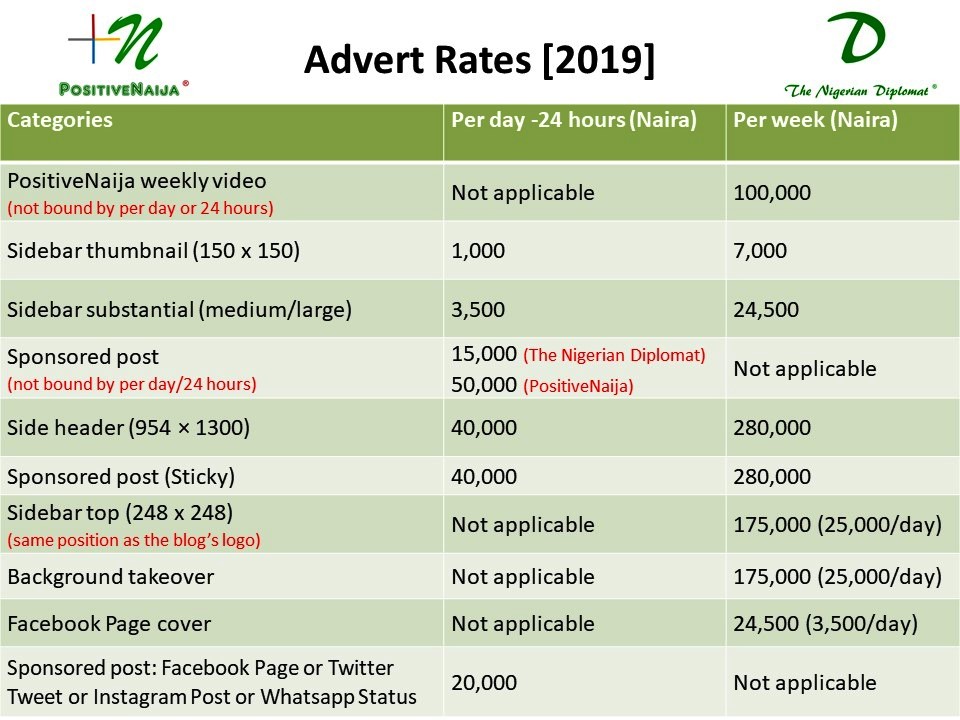 There is also the PositiveNaija Daily Quiz open for sponsorship for as low as 5,000 Naira per month.
For further enquiries, kindly send an email to thenigeriandiplomat@gmail.com
Our Supporters
Pro Bono Supporters
Operational Partners
Operational Partners
Strategic Alliances