We will be very pleased with your support, which you can provide in different ways – advert, donation & sponsorship. The most prominent is by commenting on the posts and engaging constructively with the community.
We welcome and appreciate voluntary donations towards supporting our work. Donations could be targeted towards a specific category or in general. By their approval, names of donation providers will be duly acknowledged here consistent with the respective category being supported.
For sponsorships, partnerships and advertisements, we also welcome individuals, organizations and businesses with values consistent with our objectives.
Adverts
Ads placed are also shown on mobile devices.
Ads placed on the headers, sidebars and background takeover appear on all pages including homepage, category pages, tag pages, and archive pages.
Sponsored post ads are sent to our email subscribers as well as appear on our Social Media Networks (Facebook, Twitter & Google+)
We do not accept the following ads: counterfeiting, hate-filled, exploitative, poor quality landing page/website, false/misrepresentative, sexually explicit, alcoholic beverages, gambling and betting.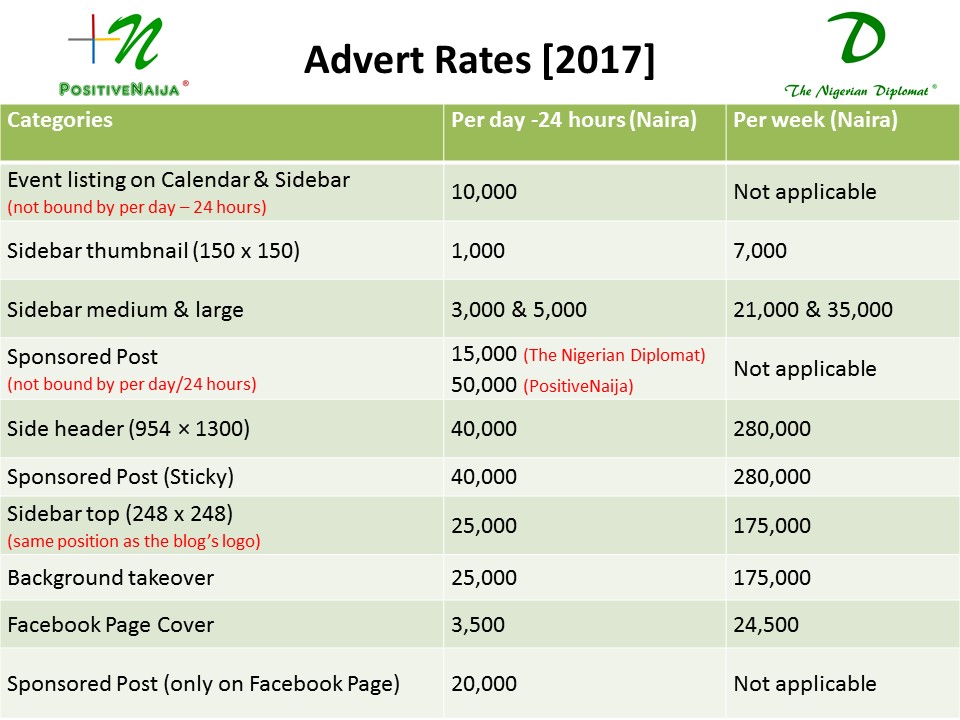 For further enquiries, please kindly send an email to thenigeriandiplomat@gmail.com
Thank you!